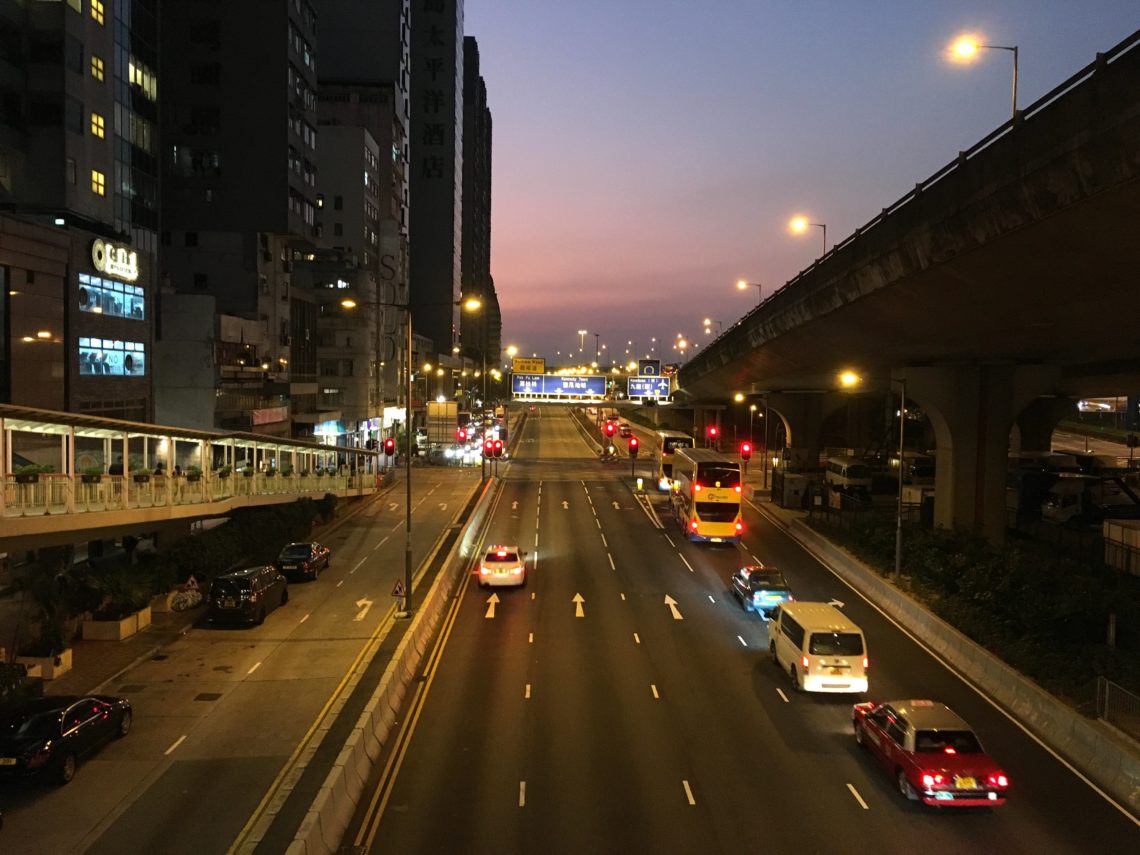 Why we moved to Hong Kong and how to ride the roller coaster life
Life is inherently risky. There is only one big risk you should avoid at all costs, and that is the risk of doing nothing.
---
We have been living in Hong Kong from Aug 2015 to Jun 2018, during which period we gained new friends, challenging life experience, as well as my master degree, our jobs and startup adventure! This article will mainly give a general idea of the reasons why we moved there, how we went through different important life moments.
1. Decided to move to Hong Kong.
In 2015 summer, after our 3 months travelling around China, Malaysia and Bali, we decided to move to Hong Kong from Shenzhen, China.
Martin said, "Let's move to Hong Kong. "
I was hesitating for a few moments, and gave him my word, "Yes, why not?"
It sounds like a very quick decision right? Well, yes and no.
For the good side, Hong Kong is very international and competitive with lots of opportunities as well as having all kinds of lifestyles which are ideal for us as international couple. China is good, but very limited for a foreigner's career development. Meanwhile, English is not well spoken even in big city like Shenzhen.
However, for the bad side, we have to give up all the things we built up in China especially friends and career, and restarted from zero in Hong Kong. Since we are very willing to take challenges in life, the decision of moving to Hong Kong has been made.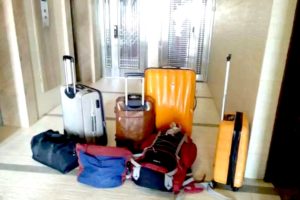 We started to terminate the rental contract with landlord and pack our things in August, 2015. We still clearly remembered that we had too much to pack, therefore we stored a few big boxes of stuffs in the mini warehouse in Shenzhen and carried 6-7 suitcases with us to Hong Kong first. Shenzhen and Hong Kong is just 1 hour trip by bus from border. In the first 3 months, we were staying and moving around different hotels whichever were cheaper and available in Hong Kong Islands side. Personally, we prefer more privacy for temporary accommodation. So hotels and entire house airbnb were our options.
---
2. Looking for jobs, so tough.
Why we needed to stay in hotels is because normally Hong Kong landlords do not want to rent the house to somebody without a job in Hong Kong. It is for the rental payment guarantee.
But you also may think it silly that we moved to Hong Kong without a job offer yet. To be honest, it was not smart. Living expense had come to be relatively high for accommodation and food. You would realize your account balance is dropping dramatically. Besides, networking is super important to reach out to more opportunities in Hong Kong but obviously has high cost and is time consuming.
There are basically 3 popular ways to look for jobs in Hong Kong: online job market (Jobsdb, indeed, whub, etc), networking & referrals. (Jobsdb and indeed platform offer all kinds of jobs, whub focuses more on jobs in startup companies.)
Job hunting process is long but Hong Kong never lacks of opportunities. Everyday in the job market, you would be able to find many new posts. It's all about patience.
My husband Martin is very experienced in his expertise area. But it still took him around 3 months to get a job offer. Afterwards, it was his work visa application which took about 6 months since he has no degree.
For me, as a junior specialist at work, it is almost impossible to find jobs. I felt very depressed and helpless for it because the company needed to sponsor my work visa as well. However, in Hong Kong, work visa is only easy for experts to apply. Therefore, not many companies would like to do so. Maybe somebody could be lucky to find a company which really wants you to work for them. I was not lucky for that.
After struggling for 4 months, I decided to pursue my master degree in Hong Kong to learn more about new knowledge and current market, as well because this will grant me an IANG visa to work and switch jobs in Hong Kong very easily after 1 year long study.
---
3. Had to pursue my postgraduate study.
In order to apply for schools in Hong Kong, I needed to prepare earlier. Therefore pay attention to the application deadline according to the programme and universities.
Firstly, I needed to pass IELTS test to be eligible to apply for schools since I am not a native English speaker or never had classes conducted in English before.
Secondly, go to universities website to select the postgraduate programs you want to get enrolled and prepare all the documents. Then apply for it. It took me about 2.5 months from preparation of IELTS test and application submission.
Then one month later, I got an offer from PolyU. I chose E-commerce under the Computing Department as my major because I had been working in cross-border e-commerce company back in China and would love to learn more skills & understand the latest tech.
As full-time student for master degree, it normally takes 1 year to graduate. The journey to study in Hong Kong actually started from September, 2016! And I graduated in July, 2017.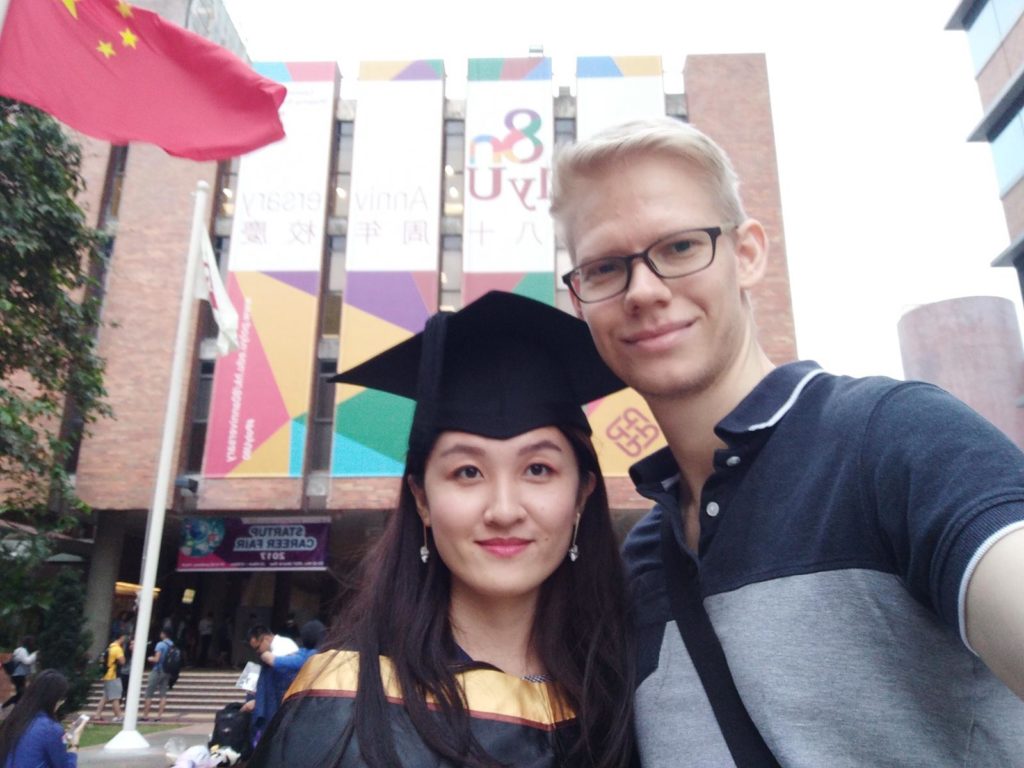 To complete the full-time postgraduate study within 1 year in PolyU, you need to obtain 30 credits. I needed to pass 10 courses or 8 course plus 1 big project in 3 semesters. And I studied quite hard to get a final GPA of 3.75 for distinction.
This is just to give you a brief idea about how postgraduate courses are like in Hong Kong.
---
4. Got married in Hong Kong.
BTW, in between, on March 15th of 2016, we registered our marriage with a small ceremony with only our best friends in Hong Kong after being together for more than 2 years.
We have to say that Hong Kong is the most ideal and simplest place to register your international marriage, where both of you just need to present passports and bring two witnesses. Afterwards, this marriage paper would be super convenient if you may decide to move to a new country in the future.
Check out Registration Marriage in Hong Kong for details.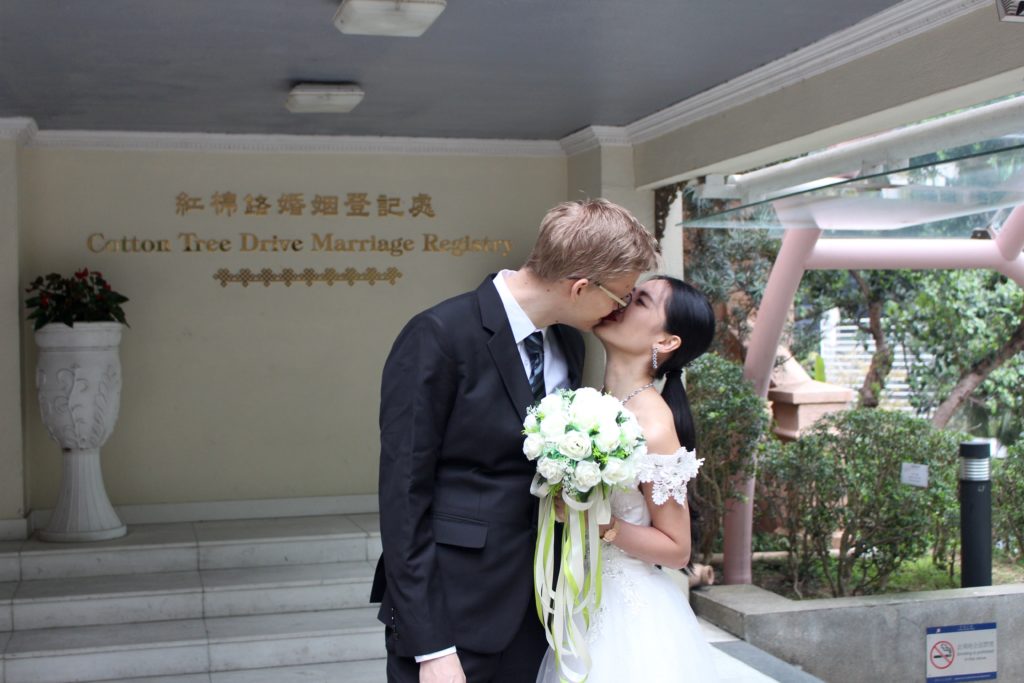 We may share more details about this in another article later or sooner if any of you guys are interested in this topic!
---
5. Finally got my first job in Hong Kong.
Right after I received the final results of all the credits taken from PolyU, I could finally be able to apply for renewable 1-year IANG visa (known as "Immigration Arrangements for Non-local Graduates"), which allows Non-local graduates to take any employment without constraints. Glad that this process only took max. 2 weeks from your application submission. I am also impressive by the efficiency of Hong Kong government.
For job hunting, I basically used JOBSDB, hunters and networking. I sent out around 10 applications per day for 2 weeks. Don't be surprised that you would get a lot of rejections or no response at all.
Hong Kong is a very competitive city with a lot of talents applying for the same position from all over the world. So be prepared to have frustration and self-doubt during this process and keep learning and improving your skills and resume.
I was lucky that after 2 weeks of application, I was invited for 3 rounds of interviews and got an offer as a digital project officer in a local company. With IANG visa obtained, I eventually could sign an employment offer contract with a company.
Therefore, it was around 1 month process from applying to signing offer in Hong Kong if you are actually serious about looking for jobs! If you guys wonder what the common salary range for a junior position for fresh graduates, it is about 12,000 – 25,000 HKD depending on your competency.
To conclude, I was very happy to work in Hong Kong despite some stress at work. Work and life balance sounds like a challenging mission while you are working in Hong Kong.
---
6. What is monthly living cost in Hong Kong?
After all, I think most of you should be interested in knowing the common living cost in Hong Kong. We are just ordinary couple who made average salary in Hong Kong.
I will showcase our case for you reference only because everyone has different lifestyle. (You can live cheaper than this definitely if you choose shared apartment or live in other areas.)
We were working in Hong Kong Islands, so living nearby was more convenient for us!
Rent for a flat with 2 bedroom in an old building with lift in Sai Ying Pun (Hong Kong islands) is around 17,000 HKD per month.
Electricity bill is around 600 HKD per month, and water bill is relatively much cheaper at 15 HKD per month.
Internet bill is around 388 HKD and phone bill is around 126 HKD per month.
MTR ticket price only on Hong Kong islands side is around 5.5-8.5 HKD/trip. Details can be checked out

here.
Our monthly meal expense is around 9,000 HKD for 2 people. We cooked for half of our time. Local HK style fast food is around 35-70 HKD/meal. The price for other types of restaurants really fluctuates a lot. So it really depends!
For other lifestyle expense like shopping, we spent around 10,000 HKD per month.
Therefore, in total, we two spent close to average 40,000 HKD per month living in Hong Kong.
Another important thing to mention here, Hong Kong has a flat net income tax rate of only 15%, plus 265,000 HKD tax deductions for married couples filing jointly, and additional deductions for children / elderly. Meaning that so long as you have a decently paying job it is not difficult to survive in Hong Kong.
The Hong Kong government provides an excellent tax calculator you can use to figure out how much you'd end up paying, to give you an idea of what your take-home income would actually be.
---
7. Was it worth moving to Hong Kong?
Even though the beginning of moving to Hong Kong was really really tough and frustrated for us, after trying our best we made our life great in Hong Kong. Maybe it is better that I can highlight the pros & cons of living or moving to Hong Kong, which are only by our opinions.
Pros:
High efficiency of any kind of work
International and multi-culture, different lifestyles for different needs
Many job opportunities
Great tax rate
Active social networking with people full of energy and passion
Very supportive and active startup ecosystem
Very safe to live, never have to worry of safety even going out after midnight
Convenient to travel to other countries
Cons:
Very expensive living cost
Almost impossible to buy an apartment, even very small size
Super fast life pace and busy city
Therefore, I think we found more pros than cons of moving to Hong Kong. We really love living there. "Making impossible into possibilities" would be best to describe Hong Kong from our views.
Maybe, in the future, we may go back again! Who knows!
If you have any question to ask or suggested topics about our life in Hong Kong, feel free to comment below!
Love from Richole & Martin