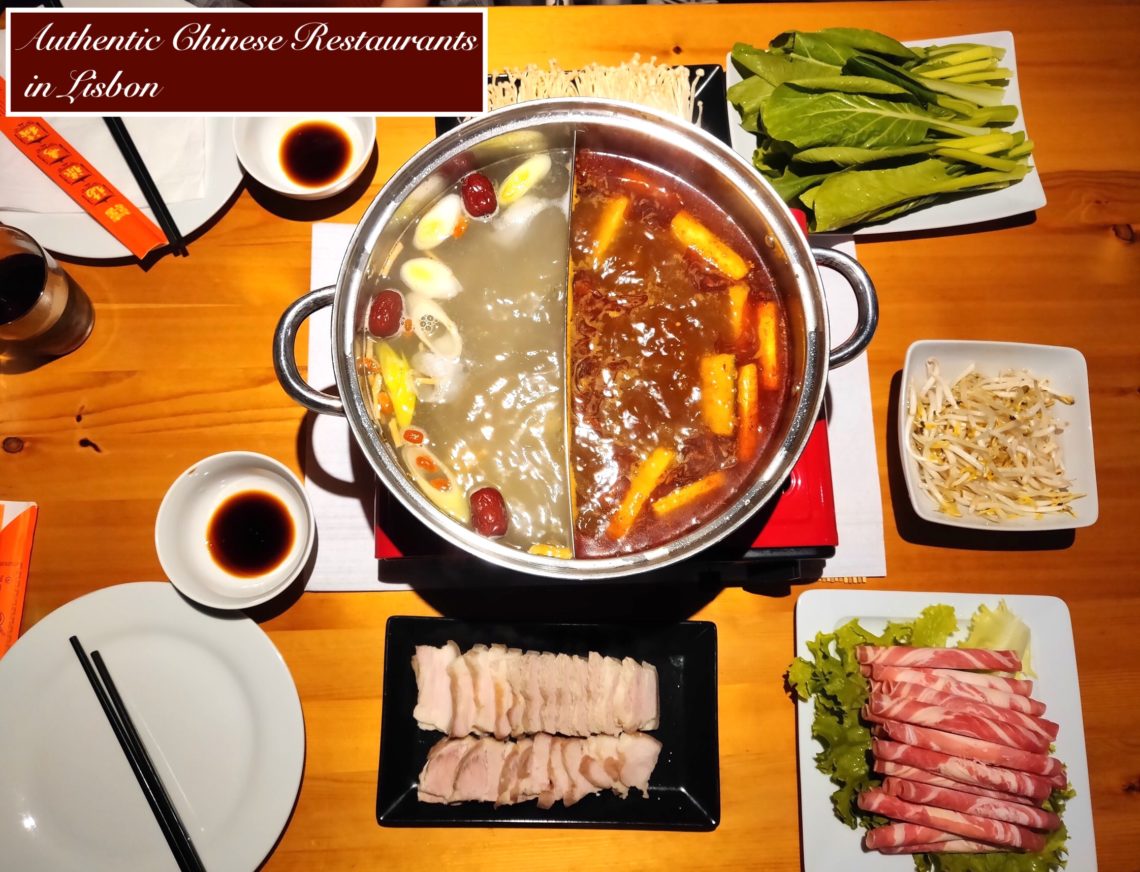 Top Authentic Chinese Restaurants in Lisbon | Your Local Guide
Hello guys,
Welcome to our first blog on the foodie part. The first thing we would like to bring out is the most authentic Chinese restaurants and drinks that we tried in Lisbon. If you are a big fan of Chinese food and are visiting Lisbon, we do hope you find this article useful.

Since we moved to Lisbon one year ago we have been searching for the best and most authentic Chinese food & drinks here.

As a Chinese person with a typical Chinese stomach, I often miss the food from back in my home country. We tried a lot of Chinese food here, and to be perfectly honest, most of them didn't delight us.

One of the classic dishes both in China and as Western-style Chinese food is fried noodles (Chao Mian), we ordered some last night. Unfortunately it came flooded in so much sweet and sour sauce I almost started gathering up pairs of animals to put on my Ark. Weirdly, I always feel the sauce they used is quite artificial.

There is naturally a difference in how Western people and Chinese people prefer their food and this shows in the kind of food most Chinese restaurants serve here.
But, if you, like us, are looking to try Chinese cuisines close to what would be served in China then here's our list of the top 5 most authentic Chinese restaurants in Lisbon, from the natural dishes of Canton to the spiciness of Sichuan food.
Top Authentic Chinese Restaurants:
1. Restaurante Chuan Yue (川粤汇)
Address: Avenida Frei Miguel Contreiras, 54B, near Alvalade metro
Average expense: around €10-15 per person.

This was the first authentic Chinese restaurant I discovered last year when going out with friends. The restaurant is packed with a few typical round or square tables, made for sharing dishes instead of eating solo, and has famous classic Chinese paintings hanging on the wall like "Qingming Shang He Tu". When you eat there you truly feel the beautiful ancient Chinese ambience.
The menu is quite big with food both spicy and non-spicy. We ordered various dishes across several regions and they all came out very delicious.

Dishes we ordered:
Sweet and sour soup: very appetizing and tasty.
Yangzhou fried rice: rice fried with eggs, chopped carrot, corn and green beans. A typical dish to order and it won't go wrong for anyone.)
Tofu & century egg: tofu is very good though even if you may not like the century egg.
Stir fried chicken with cashew nuts:
Shrimps on dry pot: served with a lot of vegetables, a bit spicy. You can choose shrimp or other meat.
2. Beijing Home (北京小馆)
Address: Travessa do benformoso n° 10, near Martim Moniz/Intendente metro
Average expense: around €10-15 per person.

This is a small and cozy restaurant hidden in Martim Moniz. The restaurant is run by a Chinese couple where the husband is the chef and the wife is responsible to serve the customers. The food is relatively cheap with big portions. However, due to their limited staff, you may have to wait for your food during the busy hours. But good food deserves waiting, doesn't it?

Tip: when you are seated, you can ask the lady for paper to write your order. This can facilitate them to process your order faster.

(Sorry, we enjoyed too much of the food and took no pictures! Next time I will make sure to take some! -_-!!! )

3. Restaurant China Chongqing (重庆饭店)
Highlight: hotpot!! & spicy chongqing
Address: Rua António Pereira Carrilho 15-9, near Alameda metro. (Closed on Wednesday)
Average expense: €14.95 per head you can have an all-you-can-eat hotpot buffet (excluding drinks though).

We love hotpot!!! And it turns out, it is really difficult to find a Chinese hotpot restaurant in Lisbon, especially at an affordable price. Which is why when we found this place it felt a little like coming back China.

The ambience is very elegant with Chinese painting and lanterns. The selections of buffet for your hotpot are wide from snacks, meat, seafood, Chinese meatball, all kinds of mushroom and vegetables, noodles, and fruits. And you can mix your own sauce for it.

Remember that the sauce is king for good taste when you eat from the hotpot. Make sure to add your favourite sauce. My favourite mixed sauce is soy sauce, sesame oil, garlic, spring onions, sand tea sauce. If you like a bit of a spicy taste make sure to add some chilli sauce.

While separate charge, they also offer a range of Chinese drinks like coconut milk, sweet herbal tea in addition to the normal water, beer and wine.

Besides all-you-can-eat hotpot, you can also choose to order individual chinese dish, they are very affordable! (But really, get the hotpot! And the double-flavor one as hotpot soup!)

4. Semana 8 (星期八)
Highlight: hotpot!! & Chinese fusion.
Address: Rua Palma, 288, Mouraria, near Martim Moniz/Intendente metro
Average expense: €18 -25 per person, including the drinks.

Hotpot & Chinese dishes, not cheap by Portuguese standards but still reasonable if compared for other non European restaurants.

The first time there for us was last November, and we ordered the hotpot on a cold and windy evening. You can choose different soup base at different prices, then select the side dishes of meat and vegetables individually for hotpot. Basically, you can select from all their menus varying from normal Chinese dishes to hotpot side dishes, as well as drinks.
The second time there was with my Taiwanese friend. We ordered different Chinese dishes and the sweet ball dessert. The taste was good. Price was relatively cheaper to hotpo. It was around €35 for two.
5. Panda Cantina 熊猫饭堂
Address: Rua da Prata 252, Baixa, near Rossio/Baixa metro (Closed on Sundays.)
Average expense: €13-15 per person.

I have to say that I was surprised to try out this Chinese ramen restaurant. They offer 3 types of ramen, tofu / pork / beef ones, spicy or non spicy. Try their Chinese qingdao beer if you order a bit spicy noodles. Then afterwards, order a cold bowl of ice jelly from Sichuan for dessert. The jelly is round, served with goji, peanut flakes and brown sugar water. Mix them well and taste them cold. Super fresh.

6. The Old House 老房子
Address: Rua Pimenta 9, 1990-254 Lisboa
Average expense: €25-30 per person.
So far, this Sichuan Chinese restaurant has been my favorite one. It is located at the harbour together with a lot of other nice restaurants in Parque das Nações. The food are just so flavoured and the ambience is very Chinese in a relatively higher standard with a lot of lanterns. They also have Sichuan Opera face changing performance at different times when dining. Please reserve a table online and enjoy the Chinese food.
I highly recommend to try their Peking duck, dumplings, siu mai, transparent noodles with minced pork, beef with black pepper, and steamed bread with chopped chicken. It is a bit pricey, but trust me, they are worthy.
After food, please take a long walk along the harbour.
Enjoy!
Here are 2 Secret Chinese Drinks Places:
When it comes to Chinese drinks, you should not miss Bubble tea, also known as pearl milk tea. Bubble tea is originally from Taiwan. We also called it "Zhen Zhu Nai Cha". The "bubble" refers to the small round chewy tapioca balls, popping boba, fruit jelly, grass jelly, agar jelly, and puddings, which could be in different colors. The classic bubble tea is the milk tea with black chewy tapioca balls. (You may also have heard of the Hong Kong style milk tea, but it normally only mix with milk and tea.)
1. Meeting Tea (遇见)
Address: Rua Palma 41, near Martim Moniz metro
Average expense: €2.95 – 4.95 per person

I have to be honest, this place isn't exactly secret as it is a well known Asian supermarket. This is the first year we see them offer freshly made bubble tea, though, so that earns them a place on our list of secret drink places.

The most authentic bubble tea I found here so far. They only have classic bubble tea and brown sugar silky milk bubble tea. Moreover, please try their fruit tea as well. It is definitely the best choice during a hot and sunny Lisbon summer day.
Brown sugar silky milk bubble tea is my favourite. Please remember to stir it or shake it before drinking so that the brown sugar liquid can mix well and make the tea taste a bit sweeter. It has a strong tea taste with a just-strong-enough taste of milk mixed in.
2. Chacha-moon
Address: Rua do Crucifixo, 112-114, Baixa, near Rossio/Baixa metro
Average expense: €3.4 – 5 per person for drinks

Nice and quiet place to chill in Chiado behind the Armazens do Chiado shopping mall. They offer many options for flavours of bubble tea. You can also customize your bubble tea by choosing your preferred tea, sweetness and flavours, with or without bubbles or jelly.

Some waffles and Chinese buns are also offered for order. If you don't indicate any preference, then the taste might be a bit lighter in either sweetness or texture of milk.
Noted:
The list will continue updating…
Love from Martin & Richole!