How to make an appointment with IMT now due to COVID-19?
As you might know that I passed the driving test on 10 August, 2020 from my another article. Since then, I have been trying to make an appointment with IMT to take photo and signature for issuing my first driver's license card. And finally I got the appointment this Tuesday after 3 months with 2 tries. Thus I feel like to share the experience with you if you are also waiting for a response from IMT.
If you are reading this article, you are not alone.
When you pass the driving test, you might be told to go to IMT website as soon as possible to make an appointment for taking photo and signature, even updating your address. Then you might go to IMT online, try to fill in all the information to register an account, then figure out that it only shows errors when you request things. So I sent an email to IMT online support ([email protected]) and got the reply as below in 2 weeks (I google translated the content). Apparently only Portuguese citizens can use the IMT online portal.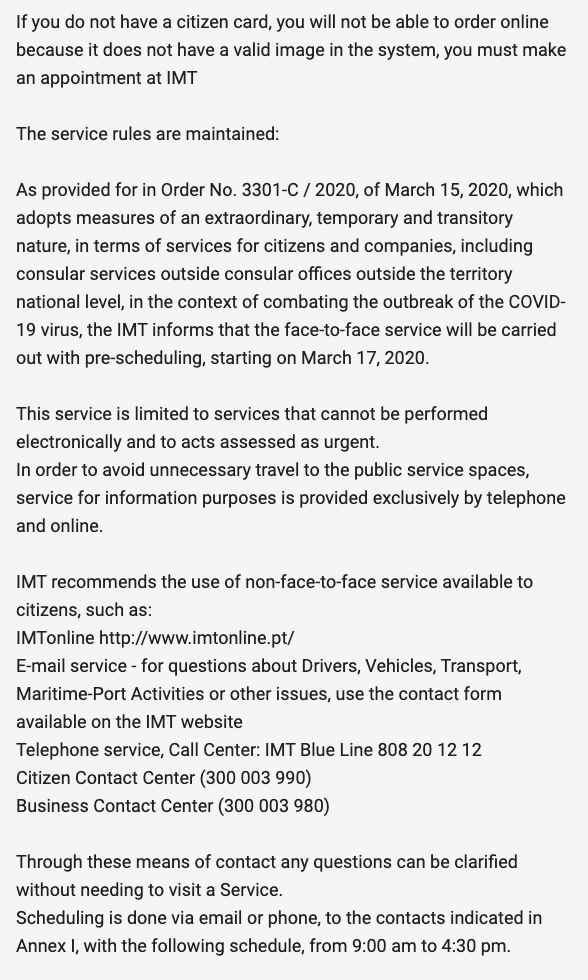 However, forget about the call hotline, nobody is gonna answer! To schedule face-to-face service with IMT, it is best to send an email with the form filled. You normally will get the appointment within 3-6 weeks.
Select an IMT close to you from IMT Email Agendamentos. (I tried DRMTC one.)
Or send an email to:

[email protected]

(I found this email on the day to IMT office.)
After sending an email with the form filled to IMT, you might or might not receive an automatic reply. Then you will have to patiently wait for 3 weeks. If you receive no reply in 3 weeks, please follow up the process again from your previous email. I managed to get the reply on the same day after following up again. You will receive your appointment information by email from

[email protected]

. (Warning: the appointment is normally on the next day when you receive the reply! Don't miss it, otherwise you will have to do it again! Don't ask me how I know it. -_-!! )
All I want to say is that you will receive a reply eventually but remember to be patient and follow up after a while. Don't try to follow up every single day, it will just stress yourself out! On the day of your appointment, bring your ID card, NIF number and temporary driver's license (the blue paper) and go to the IMT office on time, then wait for your name to be called. It was quite quick afterwards. They will extend 2 months on your temporary driver's license while waiting for the card.
However, if you wait so long as me to have the appointment, and want to update your address, it is not possible to do it in IMT now until you receive your driver's license card. I was told that the driver's card has been issued a month ago but just missing the photo and signature, so it is not possible to change now. So I had to go to CTT office to pay one-month address redirecting service (about 31 Euro) and hopefully I can get it delivered within one month.
Good luck to me and you!
Other Reference links:
IMT E-mails Agendamentos:
http://www.imt-ip.pt/sites/IMTT/Portugues/Documents/ANO%202020/Docs-Covid-19/AvisoNovasRegrasNoAtendimentoPresencial.pdf
IMT Contacts Page:
http://www.imt-ip.pt/sites/IMTT/Portugues/Contactos/Paginas/Sede.aspx
Getting a driver's license in Portugal in English | Review of Escola de condução