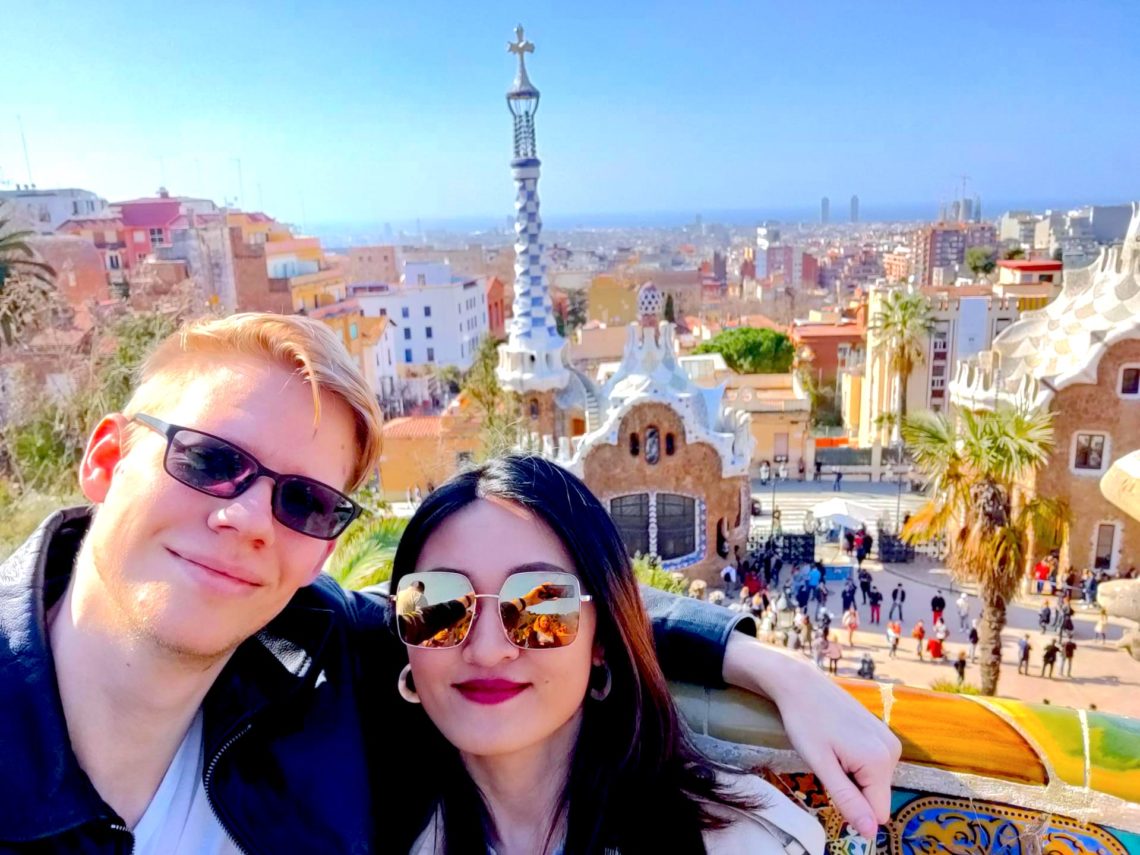 2 Days in Barcelona | A Perfect Weekend Break
Why visit Barcelona?
I had never been to Spain before, and the first city I wanted to travel to with my hubby was definitely Barcelona. Martin had been to Barcelona with his parents when he was a kid, but he didn't remember much about Barcelona.
Our main goal for the trip was to see the man called Antoni Gaudi, no we mean his great artworks in architectures. The city of Barcelona is well known for the architectures of Catalan Modernist styles designed by Gaudi, the good quality of tapas, the long beach, the medieval and the gothic streets and buildings, as well as other beautiful churches.
If it is your first time to visit Barcelona, then here may be a good two-day itinerary for your reference. Two days are just enough to know about the city! If you have longer time to stay there, we do suggest you to take it slow and enjoy!
We live in Lisbon, Portugal, where we often find cheap flights to Barcelona. This idea of a weekend break to Barcelona from Lisbon came naturally. Not only is Barcelona one of the most famous tourist cities in Europe, but also the return flight from Lisbon to Barcelona is not expensive. Generally It is only 1hr50m flight and the round trip normally costs less than €120 per person.
Top 8 must-visit places in Barcelona in 2 days
Let's start the journey to explore and admire genius Gaudi's Catalan architecture!
Day 1:
#1 Basilica De La Sagrada Familia
Opening time: 09:00 – 18:00 in general, 09:00 – 20:00 (April to September),
Entrance fee: from €17 (https://sagradafamilia.org/en)

This large unfinished basilica is the most splendid Roman Catholic church we have ever seen. The project of La Sagrada Familia started in 1882, and is expected to complete the structural work in 2026. Antoni Gaudi was not assigned as chief architect until 1884. And when he died in 1926, La Sagrada Familia was only 15- 25% completed. Then the construction work continues. Until 2019, the spires are still under construction, according to the original plan of 18 spires.
However we are allowed to visit inside with an entrance ticket of from €17 to finance the annual construction budget.
From the outside of Sagrada Familia, you would see different elements and shapes from three grand different themes of surfaces of the church. It is really amazing to look at the massive but utmost care of glory cornerstones when standing outside.
We heard that after 2 p.m. it will be very busy to enter, therefore better to book your ticket online in advance and reserve your preferred time slot to visit in the morning. Otherwise you can also spend some time looking and taking pictures from the outside.
#2 Casa Mila
Opening time: 09:00 – 20:30 / 21:00 – 23:00
Entrance fee: from €22 (http://www.lapedrera.com/en)
Casa Mila was the last private residential architecture designed by Gaudi and built between 1906 and 1912.
From this building, we can truly feel that Gaudi is indeed an observer of nature. The shapes of the building's exterior facade are curves with stones connected with twisty wrought iron, and inspired by nature. They called it "curtain wall". There is a famous quote from Gaude: "There are no straight lines or sharp corners in nature. Therefore, buildings must have no straight lines or sharp corners."
When we were visiting the spectacular roof of the building, we felt like in a desert, all the pieces were smoothly shaped and built by the wind from nature.
After seeing the roof of the building, we went down the stairs to visit the different floors and residential rooms. Here you don't need to be in a rush and enjoy the visit at your own pace. The ticket price was €25 offline / €22 online with free audio guide.
#3 Casa Batllo
Opening time: 09:00 – 21:00
Entrance fee: from €25 (https://www.casabatllo.es/en/)
Casa Batllo is another famous icon in Barcelona re-designed by Gaudi in 1904. It is located not far from Casa Mila by walk.
As other masterpieces of Gaudi's, we cannot find many straight lines from the building, and the facade is very different from Casa Mila in colors. It is decorated with a colorful mosaic made of broken ceramic tiles, when Casa Mila's is just plain light yellow color. Moreover, the roof of Casa Batllo is arched and looks the back of a dragon. The ticket price was from €25 online with AR smart guide.
However, we think that you can just choose visit only Casa Mila or Casa Batllo if schedule is tight. We chose to enter Casa Mila and admire Casa Batllo outside.
#4 Plaza de Catalunya (Feed the pigeons)
We continued walking the same street and eventually reached the famous Catalonia Square with lots of pigeons before sunset. And yes, we spent quite some time here to feed the pigeons and take some pictures. Honestly, be ready to get poop on your clothes if you wanna feed them. The pigeons were very aggressive. Sometimes I felt good when having fun with other kids and luring pigeons to sit on my hand.
#5 Catedral de Barcelona
Tourist Visit Hours: 12:45 – 19:45 (Weekdays) / 12:45 – 17:30 (Saturdays) / 14:00 – 17:30 (Sundays)
Entrance fees: €7 for individual (https://www.catedralbcn.org)
In the Gothic Quarter, you must visit the amazing Metropolitan Cathedral Basilica of Barcelona. In the day, you can enter and join a tour guide to the roof for a whole view of the Gothic Quarter. It is very beautiful. If you really want to visit this one, go there before closing time. Otherwise, at least take a glance from outside on day one evening when you are in the Gothic Quarter.
#6 Mercado de La Boqueria
Opening time: 08:00 – 20:30
Just following the crowd and walking along the big street, you will see a large famous food market called "La Boqueria" on your right. This is one of the top tourist landmarks to check out in the city, where there is something for everyone, from healthy fruits, candies, chocolates, hams and spices to fresh seafood. Even though it might be super busy here, we still enjoyed so much about the experience of colors and food.
#7 Gothic Quarter
Across the road from the food market, take a walk in the narrow medieval streets and explore around the bars and Catalan restaurants. We loved walking there and wandering around shops in the evening. Then find a nice restaurant for dinner to relax from a busy day of walking.
#8 Park Guell
Opening time: 08:00 – 21:30
Entrance fee: Generally €10 (https://parkguell.barcelona/en)
We stayed near Sagrada Familia, thus day 2 we chose to walk to somewhere for brunch with bus nearby going to Guell Park. It was just 10 – 12 mins walking. That was indeed a very good and breathtaking walking around the city in a tranquil morning. We have to say that Barcelona is never lack of charming buildings.
Around 70m near the bus stop, we came across beautiful and classic Cathedral church called Església i Convent de Les Saleses. That was unplanned but impressive in how charming the churches are in Barcelona.
We took Bus No. V19 from Pg de Sant Joan – Valencia stop to Ramiro de maeztu – C N Catalunya. Then walked for 3 mins and we arrived at the Park Guell . The bus ride was about 22 mins.
Another big icon landmark of Barcelona is absolutely "Park Guell", a park with mosaic ceramics decorated facades and green surroundings.
Park Guell has 2 different areas: the free access area which is open to all visitors without ticket, and the restricted area, which requires an entrance ticket. We also enjoyed a lot walking in the free access area with a bit of hiking. Importantly, you can get a panoramic view of the city of Barcelona either in the most popular picture spot inside restricted area or on top of mountain behind.
Just a warm reminder to you, remember to book your ticket online in advance and reserved a time slot. Or you will need to queue to buy ticket then wait for 1 – 2 hours to get in. It depends on your schedule though! If you are uncertain about when to arrive the park, then you could purchase ticket there then walk around in the free access area or have some food nearby before entering.
How to get around?
48h Hola Barcelona Travel Card
The most economy and convenient way is to purchase a 48h Hola Barcelona Travel Card (€15.2 online, change the voucher for travel cards at machines) or from ticket vending machine (around €16.8) in the airport metro station. This is valid to unlimited use within 48h for all public transports in the city, like metro, trams and buses.
About 50 – 60 mins by metro from airport to the city centre by metro.
Alternatively, taking a taxi is around €19 – 25 to the city centre for 25 mins. If you travel with 2-3 people, this might be cheaper for you to share a car.
Where to stay?
Apartments Hostemplo Suites
Around €120 per night via Hotel.com for a studio suite, they have a few buildings.
5 mins walking from Sagrada Familia Metro station, the check-in office may be 2-3 mins walking from the apartment, just follow the sign. When we arrived the check-in office late at night, we had to ring the bell to call the reception guy down. Afterwards, the guy took us to the apartment building.
Where to eat?
Cerveceria Catalana (Highly recommended!)
Expense: €45 for lunch for two, incl. drinks.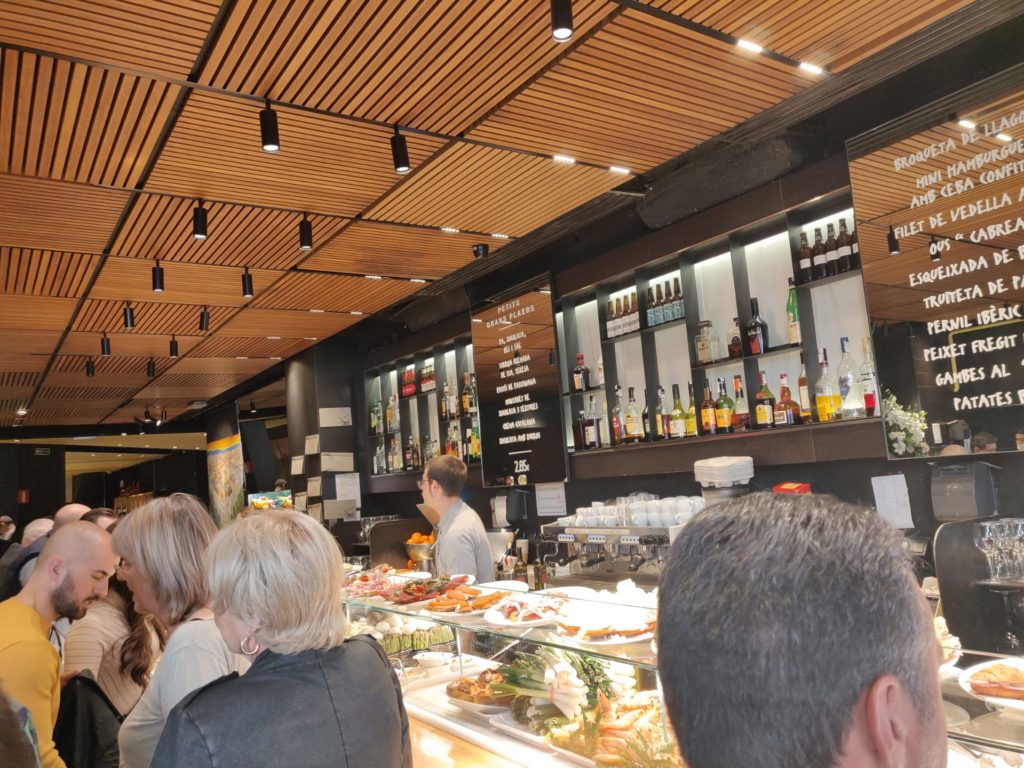 This tapas restaurant has almost the best reviews from tripadvisor. Best tapas in Barcelona. We went here for lunch on Day 1. It is located near Casa Mila. We were expecting it to be very busy and had to wait for a while to get in. Therefore we went there to leave our name for a table and was told to come back in 40 mins. Then we could be seated.
Honestly, this restaurant was the best one we have ever tried for tapas so far. Everything was tasty. They offered a big range of tapas at an affordable price. Our recommendations would be the dishes of baguette sandwich with Iberian hams, beef tenderloin with foie gras, prawn skewer, mixture of asparagus and mushroom, as well as fired hot green peppers. You can always find something you like there. You must try it out if you have time!
Expense: €40 for dinner for two.
This Spanish restaurant is popular for seafood rice, located in the Gothic Quarter with cozy ambiance. The decoration makes it look like a fine-dining place, however the price was very affordable. We ordered a mixed paella with meat and seafood for 2, fish soup and glasses of wine for dinner on Day 1. They were delicious. If you arrive there before 8 p.m., normally you can get a table easily.
A small and cozy cafe for breakfast close to our hotel apartment near Sagrada Familia. It is a good cafe to grab some food before or after visiting La Sagrada Familia in the morning.
Equilibrium Cafe Brunch & Coffee
We originally planned to go to Billy Brunch, but it was super busy with long queue outside. Unfortunately we didn't have enough time to wait for our table as we had a flight to catch at 17:00 on Day 2. Thus we found another cafe nearby and it turned out to be nice as well. The breakfast was very healthy and well served at a good price.
Oh, the other must-eat snack in Barcelona would be churros. We don't have any specific recommendation for this as we just grabbed some in some corner shops near Boqueria Market and La Sagrada Familia.
How much did we spend?
Regarding the budget for a weekend to Barcelona, the majority of expenses were flight ticket and accommodation, then partly on the entrance tickets to attraction. In total, we spent around less than €800 for two. We enjoyed our weekend break to Barcelona a lot, no doubt we would like to visit the city again for a slow and relaxing trip to experience more about the Catalan culture and the beach. No matter when you decide to visit Barcelona, the weather is always decent. When you see this post, it might be already summer time. This may be best time to travel to Barcelona for a journey on all the architectures designed by Antoni Gaudi, a taste on tapas, seafood rice and beer, as well as enjoying the beach!